TikTok App - TikTok download app Android and IOS
Although YouTube currently holds the throne in the video player application system, there is another candidate that is driving many people crazy thanks to its unique features. It's TikTok, a social media application where users can create short videos and share it for others to watch.
So, what is TikTok?
TikTok, also known as Dǒuyīn (Chinese: 抖 音), is a video sharing social network service owned by ByteDance China, a Beijing-based company founded in 2012 by Zhang Yiming. It is used to create short dances, lip-syncing, comedy, and talented videos. The TikTok videos lasted very short, initially 15 seconds, now Douyin in China for 120 seconds. TikTok download number has surpassed 2 billion across iOS and Android devices, according to app analytics firm Sensor Tower.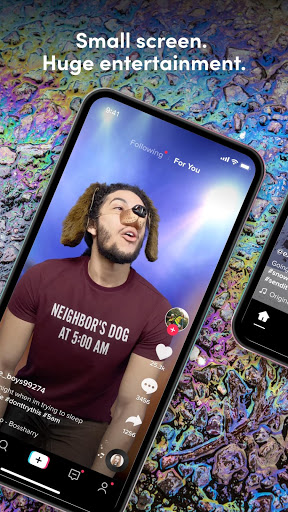 History of TikTok
ByteDance first launched Douyin for the Chinese market in September 2016. TikTok acts as a video social network, where you can freely create short videos and share them with the world. TikTok app allows users to watch music clips, record short clips lasting 3-15 seconds and edit with many creative tools, add effects, and be ready to share on Facebook, YouTube ...
By November 2017, TikTok's parent company, Beijing ByteDane Technology, bought Musical.ly, a popular Chinese short music video social platform, for nearly a billion dollars that they joined with TikTok into an app
In August 2018, TikTok partnered with Modern Sky, a well-known music platform in the United States, and began to expand into the country.
Currently, TikTok is Asia's leading short video sharing platform supporting up to 34 languages. After 4 years, TikTok has established itself as the world's fastest-growing app with the largest music video community worldwide with over 1 billion DAU (Daily Active Users)
Main features of the TikTok application
Browse videos by category
Millions of videos are being uploaded and viewed on TikTok every day. Viewers can filter their searches according to their interests to help narrow their videos. They can also browse by category to see items that better suit their interests. TikTok has an intuitive feed-like interface that is easy to navigate while browsing it. All you have to do is swipe the screen to download and watch new videos.
Create unique videos
TikTok is not just for browsing videos. It is also equipped with lots of tools and features to create your own TikTok content. You can record videos directly from the app and use basic editing tools to process your videos. You can merge, cut videos, and add effects like filters and stickers. There are dozens of free pre-made filters that can be applied to video. You can also choose from over 100 emoticon stickers to add to your creativity.
The outstanding advantages of TikTok in video production are as follows:
Good face recognition: High-speed photography and great facial recognition feature, suitable for all cute, cool, goofy, silly, and overly emotional expressions.
Good UI and UX design

Fast loading, smooth interface, low latency.
Every detail is displayed with perfect quality.

TikTok makes your phone to a mobile studio

The application is a perfect combination of artificial intelligence and photographed images.
Enhance video quality through beat-sync effect, special effects, and advanced technology.

Huge music library

A vast library of music libraries is edited and refreshed every day.
Every detail is displayed with perfect quality.
Unique social media experience
TikTok is not the first application to use a short video format, but this is definitely one of the most successful projects. It has succeeded in leveraging a young, fast-paced demographic, attaching importance to rapid production and video viewing. It also integrates social media aspects smoothly into the application. Users can comment, like and share videos just like they can with other social media apps like Instagram and Facebook. TikTok may not be quite as unique as a concept, but the experience of using it and being part of its community certainly.
How to download TikTok on operating systems
TikTok Download for iPhone / iPad
Designed for creative young generations, Tik Tok allows users to quickly and easily create unique short videos to share with friends and the world.
Tik Tok 15.5.6 for iOS is a super "hot" lip-syncing application, especially while people are free at home to avoid the Covid-19 epidemic. Young people are racing to follow the fun, interesting trends online. You can download TikTok to your iPhone / iPad by clicking the link below or you can visit the Apple Appstore, then search for the keyword TikTok. The application you need is the first result.
TikTok Download from Google Play
Currently, on Google Play, there are 2 versions of TikTok that allow users to choose the version that best suits their phone configuration.
Download TikTok from Google Play
The installation on the Ch Play app store you can be assured of the download link and the quality of the downloaded file is completely censored and safely scanned for viruses. To install, you can access the download link directly below or visit CH Play on your phone.
Enter "TikTok"
Click "Install" to start downloading this application
Proceed with the steps on the screen until all the set operations are completed.
Open and use Tik Tok right away if you want.
Download TikTok Lite from Google Play
TikTok's early version has a high capacity and configuration, which makes it difficult for users who want to experience the application but the application is not compatible with the existing device configuration. But this problem is no longer a big deal as TikTok has a lighter, easier-to-use Lite version for all devices.
With the newly upgraded TikTok Lite, compared to the old version, this Lite version has a much smaller capacity and configuration than the old version. If the phone has a low-end Android system, the Lite version is the best choice. To install the TikTok Lite version you can access the direct download link below.
Download the TikTok APK
Downloading TikTok APK means that you download the Tiktok app, not from the Google Play store. Tiktok Apk is very convenient for all Android phones such as Samsung Galaxy, Oppo, LG, HTC, Sony, Asus Zenfone, Sky, … And above all, if your Android phone doesn't have access to the CH Play app store, the .Apk file is the only option for you to install apps and games for your phone.
You can install TikTok for your Android phone by downloading the APK file. There are many ways to download, but APKCombo provides a free and very fast service. Download Here
Our website - SnapTik is one of the most stable, and fastest website to download TikTok videos without watermark. Please check it out.